There's more to Orlando than just Walt Disney World, Universal Studios, and theme parks! We tagged along with our friend Amanda Tinney over at Where's Amanda? a couple of weeks ago and checked out the well-known ICE! exhibit at Gaylord Palms Resort and Hotel for it's opening day. With it's prime location just minutes away from Walt Disney World property, Universal Studios, and SeaWorld, this hotel is a wonderful alternative to the fully booked resorts on park property. The hotel boasts luxurious rooms, massive pools, a water park, spa, and over 400,000 square feet of meeting space.
First off, Gaylord Palms Resort and Hotel isn't your normal resort. This isn't even your normal resort with a water park. No - Gaylord Palms Resort feels like it's own little city when taking a walk through their towering glass covered town known as the Atrium, filled with little gift shops, restaurants, a coffee spot, and more. Just for the holiday season, they even have a cute Christmas tree trail as well as a full display and show hosted by Cirque Dreams called Cirque Dreams Unwrapped. This was the first thing I watched when we visited the Gaylord and I could not help but sit on the edge of my seat as circus actors flew around and did the absolute impossible on such a tiny stage. It blew me away.
Next up for us was the main event and the reason people swarm to the Gaylord for the holiday season; ICE!®. When you enter the convention area, you are greeted by the Alpine Rush Snow Tubing slide. Steve and I went down this one a couple of times and raced one another to the finish line. Oh what fun!
We walked through a short queue that only seemed to get colder and colder as you got closer! They then gave us heavy parkas for us to put on. Now, as a native Floridian I found this all very intimidating. Especially since I had just come from work and was wearing a skirt and open shoes... as well as the signs explaining that it was to be a chilling 9º inside of the ICE display... WAIT WHAT?!
Either way, we put on our coats and took precaution as the hosts at the front of the display explained that even our cell phones could freeze in the frigid air and not to lick the ice as tempting as that may be. Once the doors open, the cold hits your face like a brick! However, when you get past that you can truly witness the hard work, effort, and beauty that really goes into such a display. Walking into the first room, you are greeted by a brightly lit and colorful arrangement of ice carvings that feature a giant globe of our Earth, ornaments, and a bunch of national flags.
Getting past the initial shock of the cold, I was able to keep moving forward and move into the next beautiful room of ice sculptures. This room was one of my favorites and showcased different cultures and their unique way of celebrating Christmas all while surrounding a very joyful Santa Claus who stood in the center of the room with his reindeer. It was interesting learning about how all cultures celebrate the season in their own way and reminded me of a book I used to own as a child that helped to build my fascination around this very thing.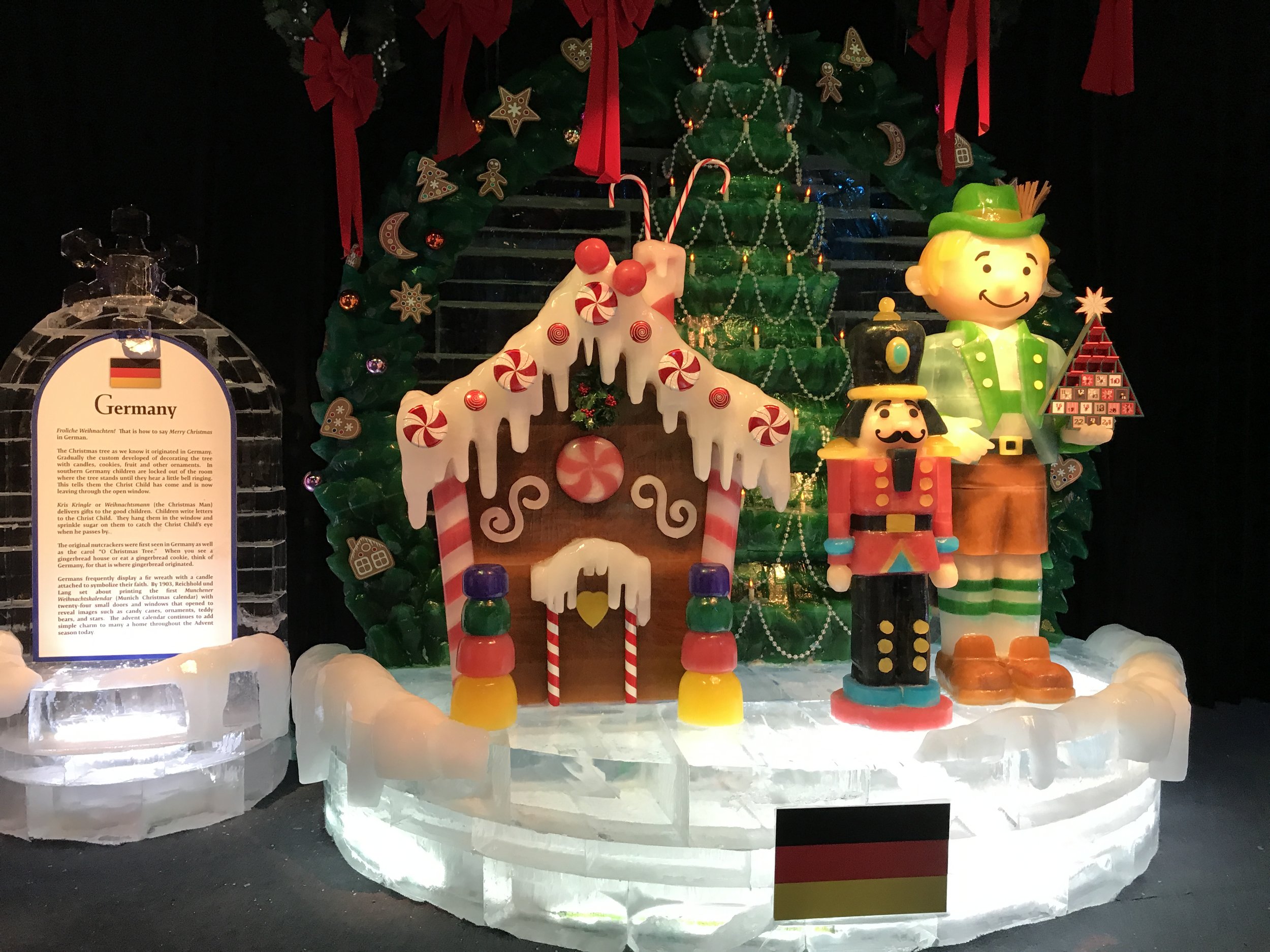 Up next was a giant ice slide! This is something that I was definitely not expecting to see... nor was I expecting to be able to fit into as a full grown adult. Climbing up the stairs to get in line was freezing but enjoying this icy thrill ride is all the more worth it!
Once your done sliding around like a penguin, you have the option to exit through two hallways lined with ice sculptures of children of all descents and backgrounds holding hands in peace and harmony. This part of the display reminds you what Christmas is truly about - peace for all mankind and joy to the world!
The fun doesn't stop there! The next room takes you into the whimsical world of Santa Claus and his toy factory. You can't help but feel happiness in this room as you see and Santa checking his naughty and nice list twice, little ice elves, and plenty of ice toys. I also got to sit in Santa's sleigh, a childhood dream come true and a great photo opt!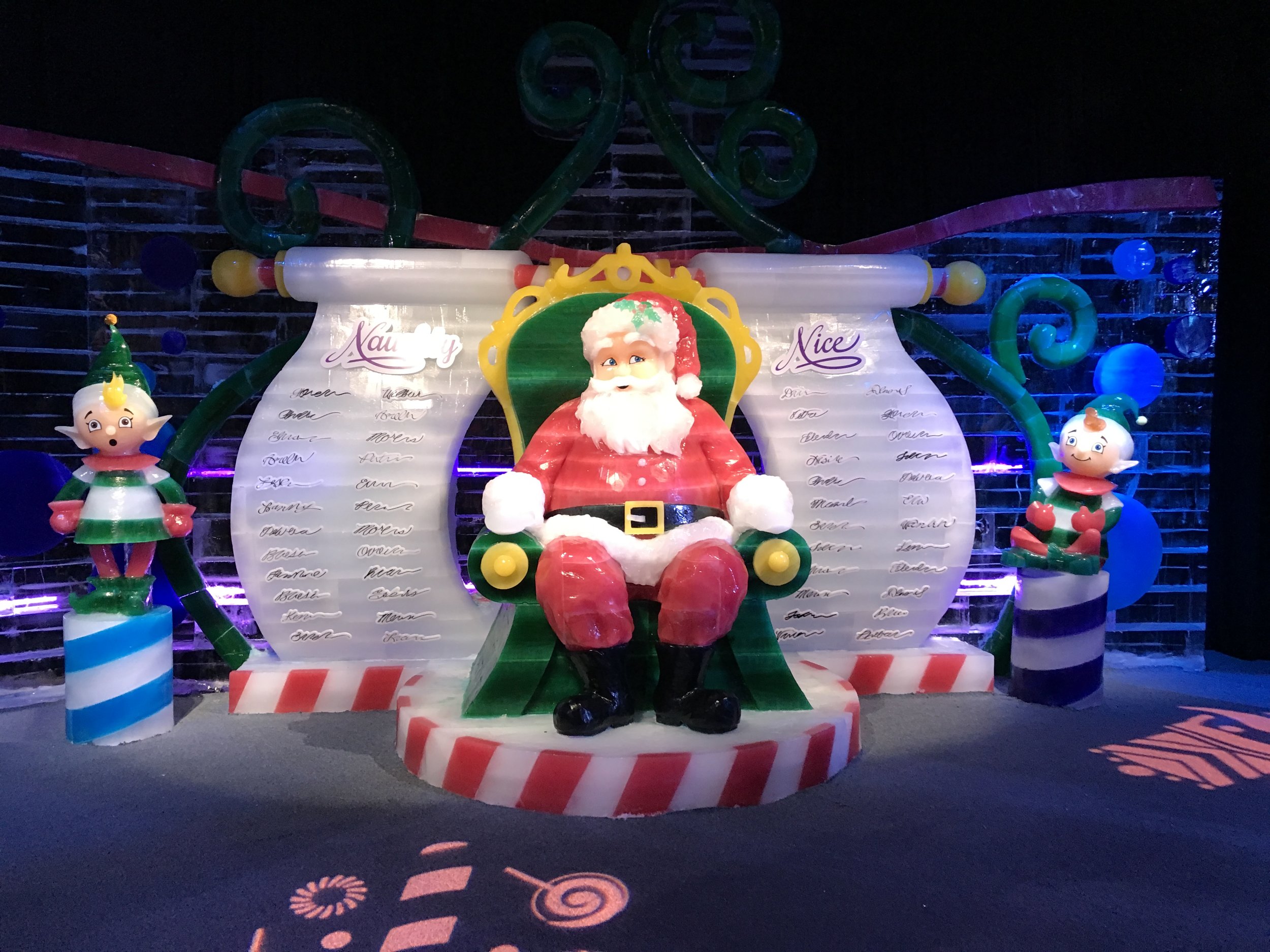 While we were there, they were just starting an ice train, but since then, we made another visit to check on the progress and it was awesome! In the "North Pole" section, you also have the opportunity to learn more about how ice sculptures are made and the long journey they take to become so amazing. Check out the pictures below to take a look at the signs they put up explaining the process and to see the artist at work building the train!
At the end is a very quiet room where the baby Jesus sleeps in his make-shift cradle surrounded by Mary, Joseph, the three wise men, and Gabriel the Angel. Rather than the colored ice that surrounds this entire exhibit, this particular scene is made of clear ice and beautifully lit with warm lighting that also warms your heart. I couldn't think of a better way to end the Gaylord ICE!® display!
When exiting the exhibit you may be a little hungry so I would advise grabbing a snack at the Auntie Anne's right outside or at the snack bar. There's also a gift shop incase your looking for a special holiday gift, decorations for your hotel room, or a keepsake for Christmases to come.
Steve, Amanda, and I really enjoyed the Gaylord ICE!® display and cannot wait to take a trip back this season and in future holiday seasons! If you'd like to learn more about Christmas at Gaylord Palms Hotel and Resort and start planning your holiday vacation, click here.
Interested in keeping up with us? Follow us @TheDisneyFox on Instagram and like us on Facebook for more foxy updates.